What to Expect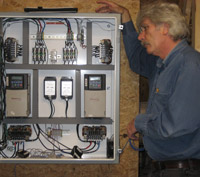 Our M&V work can be broken out into three segments:
M&V planning
Commissioning of the M&V equipment during construction
Implementation of the M&V plan during the first year of occupancy.
The implementation of the M&V plan is the most costly portion of the M&V work. It is also the most meaningful. The M&V process, if implemented annually will cost less over time and will ensure that annual energy use is minimized. This type of process can save 10% annually in energy costs.
M&V Plan Development
We develop a measurement and verification plan to meet the Owner's objectives. In the process of developing the plan we:
Identify end uses to be metered
Assist the design team in specification of appropriate metering equipment and calibration procedures
Develop data processing requirements to ensure metered data is available to building operators in an accessible and useful format.
Work with the design team to ensure data processing of metered data and reporting formats are included in the project specifications
Meet with the Owner and Design Team to ensure M&V planning reflects the Owner's needs, obtain input from the Design Team and coordinate M&V requirements.
Train Building Operators on M&V Plan implementation
Document the M&V protocols in a detailed plan including an executive summary and the following sections: project description, data gathering and analysis, building model calibration, report requirements.
Quality Assurance/M&V Commissioning
Our M&V Plans detail necessary quality assurance protocols which include additional commissioning services to ensure that all metering equipment is calibrated and functional. Additional commissioning activities may include: reviewing submittals and verifying the installation and calibration of the metering devices for the project. Meters may include:
Space conditioning load – cooling and heating
Commercial kitchen hot water, propane and electric
Building Propane
Building Electrical
Lighting
Post Occupancy M&V Implementation
Ideally, a commissioning agent will be required to perform M&V during the first year of occupancy. We will work with a designated representative of the Owner to complete verification of the first year energy use and demand after one full year of occupancy. The annual reconciliation of the building energy target and the actual consumption may include:
Review of one full year of electrical and fuel bills provided to Cx Associates by the Owner
Review of on-site seasonal end use consumption data provided by the Owner
Annual analysis of actual -vs- predicted performance
Recommendations to improve performance
A final report of the year one energy and demand performance comparing the actual consumption to the energy and demand targets and meeting the requirements of the M&V Plan