Retrocommissioning (RCx)
Retrocommissioning is the art of analyzing a building's current performance and implementing measures to reduce the operating cost while improving the functionality of the building's systems. (Commissioning is the term used to describe this process when it is applied to new buildings, so 'retro-commissioning' evolved as the term for when the building has been around a while.)
Building retrocommissioning includes engineering analyses designed to increase efficiency, lower operating cost, improve occupant comfort and decrease maintenance costs.
Retrocommissioning spans the spectrum from tweaking controls of the HVAC and lighting systems to physically analyzing the functionality of the mechanical systems. (Are the valves and dampers working? Are the systems piped correctly?). In the end, the building operates more smoothly, occupants are more comfortable, equipment maintenance problems are reduced and the building owner saves money.
Focus on Efficiency and Savings
In one retrocommissioning project, CxA recommended installing programmable thermostats to control heat pump fans, saving 107,000 kWh annually and providing a payback of two years.
Cx Associates brings energy efficiency expertise to every project and the energy savings we find can pay for our services.
Cx Associates has expertise in retrocommissioning including system optimization, identification of energy efficiency measures and capital investments for long term energy reductions. Cx Associates Principal Emeritus Tom Anderson was a contributing author to the Building Commissioning Association's (BCA) Best Practices in Commissioning Existing Buildings and was referred to as the "grandfather of retrocommissioning in Vermont" at a recent BCA conference. We have helped clients reduce energy use in building systems through in depth building controls investigation and upgrades, the addition of energy savings technologies such as variable frequency drives, even on constant volume systems, commissioning the improvements and providing metering based measurement and verification to ensure performance.
Approach
Cx Associates has extensive experience retrocommissioning and commissioning many types of large facilities. Our process, which has worked well for us and our clients in the past, is as follows:
Information Gathering, Review & Organization - The team initiates the project with a kick-off meeting to review the project objectives and establish protocols.
Site Assessment - The site assessment includes the following components:

Walk through inspection of equipment
On site DDC control review with operations staff
Interviews with staff to identify current maintenance practices
Review of current energy management activities.

Energy Analysis - Cx Associates creates an annual energy profile using Energy Star Rating. We then disaggregate the energy end uses.
We develop a list of energy savings opportunities including a high level scope of work for each of the three measure types: controls, energy efficiency, and capital improvement. We identify:
Control Measures. Low/no cost opportunities to reduce energy use and demand through improved control and the necessary control upgrades required for implementing them. Example – Static pressure setpoint reset for VAV systems.
Energy Efficiency Measures. Moderate cost energy efficiency upgrades that require investment in equipment to improve efficiency of existing systems. Example - energy recovery of data center rejected heat for use in pre-heating winter ventilation air.
Capital cost items that, when implemented with planned infrastructure upgrades will significantly reduce the energy use and demand of the facility. Example – conversion from dual duct to single duct VAV system.
Cx Associates estimates the energy and demand savings using custom spreadsheets, the building energy disaggregation and where appropriate, calibrated building modeling.
Report - Cx Associates documents our findings in a report including a plan for the subsequent phases of the project. All calculated kWh savings, KW coincidence peak savings and kBTU fossil fuel/biomass savings estimates are provided.
Follow Up - Cx Associates presents our report findings in a meeting with project's stakeholders. We recommend specific next steps which typically includes a package of measures.
Design & Specification - Cx Associates develops conceptual design documents, detailed sequences of operation, performance requirement and commissioning plans.
Pricing and Negotiation - The work is priced by qualified contractors. Cx Associations and the Owner review the contractor proposals; make an initial selection and negotiation contracts.
Commissioning - Adequate training is ensured by review of training agenda and trainer qualifications prior to training execution.
M&V - Cx Associates develops an M&V plan to ensure the persistence of the improvements is maintained.
Cx Associates recommends that owners approach the retrocommissioning process according to the "RCx Gem" figure below. Done right, RCx can provide deep and lasting savings within a facility. Unfortunately many projects look to shortcut the process. Focusing on the Investigate and Implement facets of the process may seem to be the shortest route to garnering savings, but it may result in comfort problems, dissatisfied employees, and measures overridden by maintenance personnel, resulting in the owner's investment not yielding sustained benefits. Cx Associates Principal Jennifer Chiodo reviews each facet of the RCx process in more detail in her blog post ,
Why the Many Facets of Building Retrocommissioning Matter
.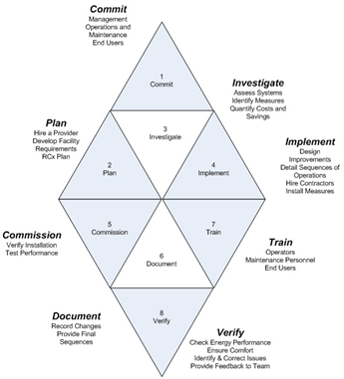 Read more about retrocommissioning on our blog and please get in touch with us to schedule a consultation about retrocommissioning your facility.