Commissioning Capabilities
Commissioning is a systematic process that ensures the new and renovated building systems are designed, built, and operated to meet the Owner's requirements. We deliver a comprehensive quality assurance process to assist the team in:
Minimizing building energy use over time
Optimizing equipment selection and performance to control first cost while ensuring operational effectiveness
Performing rigorous verification to ensure that building systems are installed and work as intended
Ensuring operating staff are provided with appropriate documentation and training to meet their needs
Effective commissioning requires providers who bring depth of knowledge and experience to the project. Cx Associates' Principals Jennifer Chiodo and Matt Napolitan, have over 35 years' combined experience in building design, construction, and operations. Since our firm is small, you know that we will be directly involved in and responsible for the project work.
Our expertise in Measurement & Verification allows us to go beyond traditional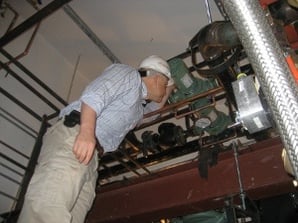 commissioning. We can use our metering equipment to supplement information gathered through test equipment and the DDC and for project pursuing the LEED M&V Credit, we have the experience and expertise to simplify the process while ensuring the right data is available to track project performance over time.
For LEED M&V Projects, we work with our clients to establish the objectives of undertaking the M&V effort and ensure a comprehensive M&V approach is taken. We detail the M&V requirements, work with the design team to ensure systems are set up for tracking, draft an M&V plan, work with the customer to ensure the funding and personnel will be in place to implement the plan, verify that the design and construction meets the M&V requirements outlined in the plan and commission the final M&V system. By pairing our M&V capabilities with our commissioning rigor, building owners can be confident that they have an M&V system in place that not only achieves three LEED credits for new construction via LEED EAc5, but is comprehensive, has been verified to be accurate and meets the needs of the building owner.